Description
Philips 190S 19″ 1280×1024 5ms 5:4 VGA DVI LCD Monitor Refurbished Grade A
*The refurbishing process includes functionality testing, basic cleaning, inspection, and repackaging*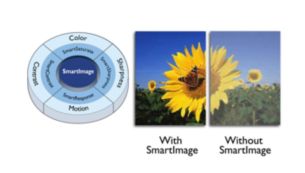 SmartImage: Optimized user-friendly display experience
SmartImage is an exclusive leading edge Philips technology that analyzes the content displayed on your screen and gives you optimized display performance. This user friendly interface allows you to select various modes like Office, Image, Entertainment, Economy etc., to fit the application in use. Based on the selection, SmartImage dynamically optimizes the contrast, color saturation and sharpness of images and videos for ultimate display performance. The Economy mode option offers you major power savings. All in real time with the press of a single button!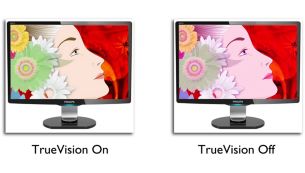 TrueVision: Laboratory quality display performance
TrueVision is industry-leading, proprietary Philips testing and algorithm technology for monitor adjustment and fine tuning, an extensive process that ensures ultimate display performance in compliance with a standard four-times more stringent than Microsoft's Vista requirements from each and every monitor that leaves the factory – not just a few review samples. Only Philips goes to these lengths to deliver this exacting level of color accuracy and display quality in every new monitor.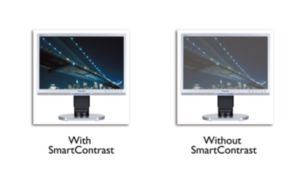 SmartContrast: For incredible rich black details
SmartContrast is a Philips technology that analyzes the contents you are displaying, automatically adjusting colors and controlling backlight intensity to dynamically enhance contrast for the best digital images and videos or when playing games where dark hues are displayed. When Economy mode is selected, contrast is adjusted and backlighting fine-tuned for just-right display of everyday office applications and lower power consumption.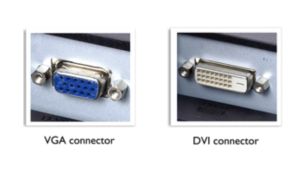 Dual input accepts both analog VGA and digital DVI signals
Dual input provides connectors to accommodate input of both analog VGA and digital DVI signals.
Green design conserves resources and reduces operating costs
Eco-friendly design is based on environmentally conscious engineering of a display device to minimize power consumption, reduce packing materials and eliminate hazardous materials. Being at the forefront of sustainability and with our longstanding commitment to reduce the environmental impact of our products, we enable consumers to make simple, responsible choices about the products they buy and the impact they have before, during and at the end of their life cycle.
DVI-D input and HDCP support
High-Bandwidth Digital Content Protection (HDCP) is a copyright protection system that is incorporated into the DVI connector. It helps stop unauthorized duplication of copyrighted content. HDCP allows you to play protected content media such as movies and concerts. It checks the signal to prevent piracy, allowing only legal copies of content to display.
Screen tilts to your ideal, individualized viewing angle
Adjustable tilt is backward and forward movement of a screen on its base to achieve custom positioning for an ideal viewing angle and more comfort for people who spend long hours working on the computer.
Hassle-free display performance tuning with SmartControl II
SmartControl II is monitor-based software with an easy-to-use on-screen graphic interface that guides you through fine-tuning resolution, color calibration and other display settings including brightness, contrast, clock & phase, position, RGB, white point and – on models with onboard speakers – volume adjustments.
Cable management for a tidy work space
Cable management is a system that maintains tidy workspace by organizing cables and wires required for the operation of a display device.
TCO'03 guarantees the highest safety and ergonomic standards
A TCO (Swedish Confederation of Professional Employees) standard even more stringent than MPR-II for safety and ergonomics, especially concerning alternating electric fields (AEF).
Empowered for Windows Vista
Philips Vista-ready monitors are empowered for vibrant, exciting display of this new, visually sophisticated and demanding Windows operating system, designed to enhance your entertainment experience, make you more productive and help you control your computing experience at home and in the office, making viewing, finding and organizing information for work or play quick, efficient and easy.
Technical Specifications:
GENERAL
Brand

Philips

Model

190S

Product Line

none

Display Type

TN LCD

Manufacturer Warranty

3 Months

Energy Rating

None

DISPLAY
Screen Size

19 in

Maximum Resolution

1280×1024

Aspect Ratio

5:4

Response Time

5ms

Brightness

250 cd/m2

Contrast Ratio

500:1

Refresh Rate

60 Hz

OTHER
Features

Wall Mountable

Video Inputs

DVI-I

VGA D-Sub

Most Suitable For

Casual Computing

Custom Bundle

No

Bundle Description

None

PHYSICAL
Item Height

419mm

Item Length

235mm

Item Width

425mm

Item Weight

5.8kgs

Condition

A
---
Warranty Terms & Conditions – 3C Certified Refurbished Products*
High Quality products at great prices
Rigorous refurbishment process before sale
Covered by 3C -FREE 12 MONTHS –Warranty
"3C Product Care" from 24 Months up to 36 Months can be purchased.
---
* FREE 12 Months Warranty – warranty strictly excludes battery , power adaptors & cable , software issues and any physical , liquid damages.
---
*Colour may vary depending on stock in hand.
*Battery capacity may wary for refurbished product due to age and usage. 3C Computers and Mobiles terms and conditions apply and Errors and omissions may expected and picture is for representation purpose only and may not be an actual product. 3C Terms and Conditions apply on all warranties and purchases.
Bulk quantity for Education or Business: Please contact us for special pricing on bulk quantities. Email us at contact@3cnz.co.nz or please call 027 556 5561